As the political arm of the American Society for Metabolic and Bariatric Surgery, ObesityPAC represents the needs of bariatric surgeons and their patients on Capitol Hill and within State Houses across the country. ObesityPAC enables ASMBS to build the necessary relationships with Members of Congress as well as with key state policymakers, such as Governors, State Insurance Commissioners and state legislators to educate them about issues surrounding patient access to, and coverage of, bariatric surgery.
As a non-partisan PAC, ObesityPAC influences the make-up of Congress and State government by contributing to incumbents and candidates who have acted as champions for bariatric surgery, regardless of their party affiliation.
Coverage Map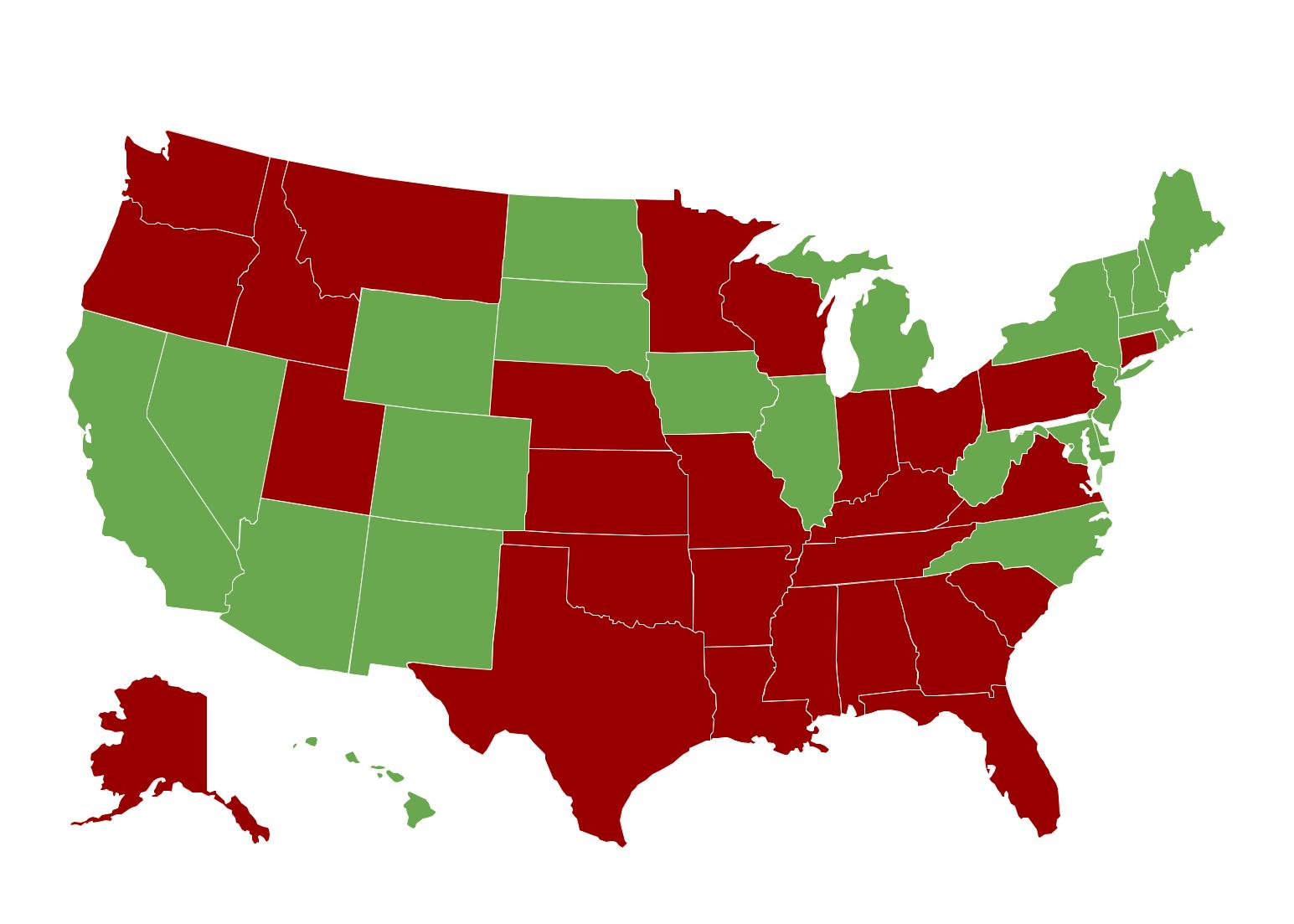 State Exchange Includes Bariatric Surgery Coverage
State Exchange Excludes Bariatric Surgery Coverage
Current state healthcare exchanges clearly do not sufficiently cover weight loss and bariatric surgery programs. Over half of states cover neither bariatric surgery nor weight loss programs. Despite the undeniable evidence of the dangers of obesity and the efficacy of metabolic and bariatric surgery, coverage is minimal across the United States. The mission of ObesityPAC will be to secure nationwide coverage of bariatric surgery – starting with state healthcare exchanges.
Please make a personal contribution below. Note that corporate contributions to PACs are prohibited by law.
All US-based members of ASMBS are eligible to join ObesityPAC.
Need help?
If you have any questions, please contact PAC staff at info@ObesityPAC.org
Contributions to American Society for Metabolic and Bariatric Surgery Political Action Committee, Inc. (ObesityPAC) are not deductible as charitable contributions for Federal income tax purposes. ObesityPAC is funded by voluntary contributions. You have the right to refuse to contribute without reprisal. Contributions will be used for political purposes. Federal law requires us to use our best efforts to collect and report the name, mailing address, occupation, and name of employer of individuals whose contributions exceed $200 in a calendar year. The recommended contribution amounts are only suggestions. You may give more or less than the suggested amount. The American Society for Metabolic and Bariatric Surgery will not favor or disadvantage anyone by reason of the amount of their contribution or their decision not to contribute. Contributions must be made with personal funds only. You must be a US citizen or permanent resident (green card holder) to contribute.