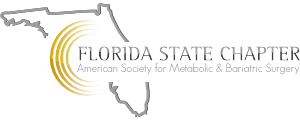 Incorporated June 2009
ASMBS Florida Chapter Website
Join our Facebook Group ASMBS Florida
Join our LinkedIn Group ASMBS Florida
Follow us on Twitter @asmbsFlorida
Follow us on Instagram @asmbsflorida
Mission Statement
The mission of the Florida, Puerto Rico & the Caribbean Chapter of ASMBS is to advance the care and treatment of individuals affected by obesity through education, collaboration, and advocacy. We are focused on improving quality of care, ending weight bias and obesity stigma, and providing equitable access for all. Our goal is to foster collaboration among all healthcare professionals, policy makers, and the public to build a comprehensive approach to the care of obesity and to encourage further research into etiology, prevention, and treatment of this complex disease.
Executive Officers
President: Christopher DuCoin, MD MPH FACS FASMBS
Vice President/President-Elect: Onur Kutlu, MD FACS
Secretary/Treasurer: Donald Fridley, DO FACOS FASMBS
Member at Large Region 1: Joey Jarrard, MD FACS FASMBS (Jacksonville)
Member at Large Region 2: Dennis Smith, MD FACS FASMBS (Orlando)
Member at Large Region 3: Lisa Ferreira, MD FOMA (South Pasadena)
Chapter Liaison Region 4: Guilermo Bolavos, MD FACS (Miami)
Past Presidents: Michel Murr, MD; Samuel Szomstein, MD FASMBS; John Paul Gonzalvo, DO FASMBS
Integrated Health President: Gwen Crispell, MSN RN CBN
Integrated Health President-Elect: Open
Integrated Health Nurse Member at Large: Open
Integrated Health Member at Large: Open
Integrated Health Past Presidents: Open
STAR (State Access to Care Representative): Dennis Smith, MD FASMBS
Integrated Health STAR (State Access to Care Representative): Open
Contact
Chapter Meetings
Please contact Chapter for Zoom Information for any Chapter meetings
No chapter meetings are scheduled at this time.
Chapter Updates and Activities
Psychological Bariatric Consultation Group for Florida Behavioral Health Professionals (ASMBS members only)
Will meet via Zoom; Contact Ashlyn Douglas-Barnes for details ashlynlcsw@gmail.com
Upcoming Executive Board Elections at ASMBS Annual Meeting
IH Executive Board elections August 2019
Numerous and continuing Advocacy efforts Led by STAR Joseph Chebli 2018-2019
Relaunching of the Official Chapter Facebook Page in November 2019
In December 2017 Puerto Rico & The Caribbean were added to the chapter
Statewide Pedometer Challenge 2nd Edition (February–March 2017)
March 2016: 3rd Installment of Florida Chapter Newsletter circulated
Multi-center Bariatric Journal Video Conferences: Two in 2015 and hoping to do more (every 3 months) (Jawad, Szomstein MD)
October 24, 2015: South Florida Walk for Obesity Event hosted by Cleveland Clinic Florida, the Bariatric and Metabolic Institute, American Society of Metabolic and Bariatric Surgery (ASMBS) Foundation and the ASMBS Florida State Chapter: With the support of the Florida State Chapter and the ASMBS Foundation, The Cleveland Clinic of Weston did their first obesity walk. It was an amazing success, thanks to the energetic efforts of Lillian Craggs-Dino and her team. Over 100 walkers participated in the event raising $11,366 for the ASMBS Foundation. Where: Tree Tops Park, 3900 SW 100 Avenue, Davie, FL 33328
Several Advocacy efforts/letters (Drs. Chebli, Rosenthal, English, and Szomstein)
February 22, 2015: Statewide Pedometer Challenge: over 6 million steps and more than 38 Centers registered across Florida; Over 3 times the amount of steps and participation than expected at no financial cost; First activity of its kind; nationwide startup National Pedometer Challenge by ASMBS to be held late 2015
Fall/Winter 2015: "Day in Bariatric Surgery" at the Cleveland Clinic, Weston, FL to promote, advocate, and introduce bariatrics to legislators/insurance company executives (Rosenthal, Szomstein)
Support Groups
Please check with your provider for Support Groups in your area or online.
Advocacy Information